(grand) Mothers' Day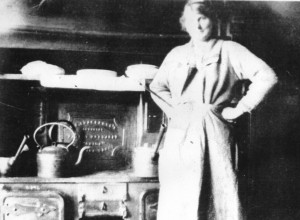 I was moved when my mother wrote after reading Island that a couple of the characters reminded her strongly of my two grandmothers "— strong, practical, optimistic  (especially after a little time alone with their feelings). And Liesel too could have been Granny Grace carrying on until the tasks were all done during the 1918 influenza epidemic" (at Christchurch Hospital where she also met my grandfather recovering from injuries sustained in the Somme).
I'd had neither in mind while writing but accept that it's likely they would find expression through me. The photo is of 'Bunny', my father's mother, Ellen Preston, in command of the coal range at their station Glen Shee in the Maniototo, probably in the 1930s or 40s.