Autumn brings on the munchies as the body tries to add a layer for winter. I was flicking through the Argentina 2009 photos the other day and realised how often we photographed our food before we ate it. Well, more likely I did, since it was probably nothing out of the ordinary for Elena.
I had a sudden craving for one of these last night: sweetcorn empanadas, or corn husk wrapped around creamed corn and cheese and steamed. Comfort food.
In Valeria del Mar on the Atlantic coast, we pushed our work aside for lunch. With a little wine for the stomach's sake.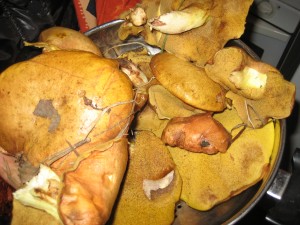 Hongos harvested from under the pine trees were made into . . .
… risotto and ratatouille that were tasty and  just the tiniest bit slippery.
On buses, we ate miniature cracker biscuits out of packets that matched our clothing.
Pink stuff.
In cafes, the morning medialuna with coffee.
Out for dinner: varieties of pasta.
In Ushuaia, king crab from the Beagle Channel.
In the Humahuaca Valley, quinoa omelette.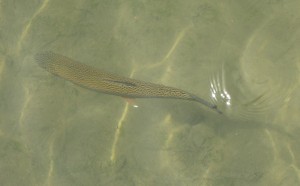 Back in Jujuy, trout. Fresh.
And in the country where beef is king of the table and the barbecue holds pride of place in the garden, the opportunity to try a some kind of gland and a blood ball (aka black pudding).
You may have met the pastelitas already. The neighbour made them and we ate them still warm.
Okay, we're full now.
 But you can find a little more of Elena here.